So, I don't know why I torture myself in this manner, but I LOVE looking at clothes that I simply can't afford. Well I guess technically I could buy them, but we wouldn't get to eat that week. =P I rarely ever buy anything at full price, and I love digging through clearance racks and shopping at TJ Maxx. It's just what I do. So I was asking myself last night why in the world I ordered an
Anthropologie
catalog.
I came upon this shirt.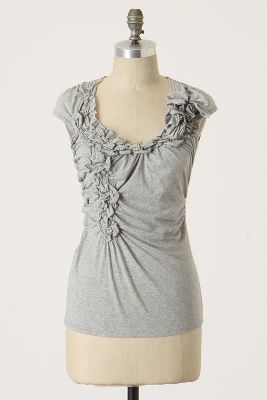 Cute isn't it? $48 worth of cute? I'm not sure.
My wheels started turning. My creative juices started flowing. My skills at stealing my hubs' tshirts started tingling... you get the point.
This is the story of how this
became my 'molded and melded' look-a-like tee. =D
[This is probably an absolutely horrible tutorial, but I was just winging it on this tee before I went out and actually bought one to chop up.]
Step 1: Turn tee inside out. Put tee on and pin sides so that it basically fits your body shape. Remove tee without stabbing yourself.
Step 2: Sew along one side of the pins. (Really winging it here, people!)
Step 3: Remove pins, turn tee right side out and try it on. As you can see it fits pretty well. If you don't like the way it fits, grab your seam ripper and start over. (Please excuse my messy hair and pj pants! =D)
Step 4: Once you like the way it fits, reinforce the seam by sewing over it again. Then cut the extra fabric from the inside off. (Save the parts you cut off.) I don't own a serger, so I just did a zig zag stitch next to the seam on the inside.
Step 5: This is where we make the neckline you desire. While wearing the tee I just made a small dot with a sharpie at the lowest part of the center of my desired neckline. Remove your shirt and fold it as the picture shows below. What you want is to make one cut, that will result in a symmetrical neckline. The red line shows approximately how I cut mine.
Step 6: Try tee on to see how you like it and figure out what you want to do with the sleeves. I pretty much just hacked mine off to achieve somewhat of a capped sleeve. (Save the parts you cut off.)
Step 7: This is where you use the extra fabric scraps from the inside seam and sleeves. Cut the fabric into strips or use it as is - it's up to you! I suggest using a ton of pins to keep the ruffles in place, then just sewing through them a couple times. I sewed through each piece of fabric (I used 3) twice. Use a picture for inspiration or just decorate however you feel! I looked at the picture a bit, but knew I wouldn't be able to make an exact replica, so I just went with however the fabric looked best!
Step 8: Model and bask in your stylishness, craftiness and frugality! You undoubtedly just saved at least $43!!
I think mine came out pretty good for the first time winging it! I could do without the pocket, and would maybe like a little more rouching, but all in all I think it came out pretty okay! =]